CBDC - The next big thing - 🎧
Get to know the important things about CBDC – Central Bank Digitial Currencies
The recent hype around digital currencies has intrigued us! As truth seekers, we have decided to have an in-depth dig at it.
June 11, 2021 | The next big thing

Central Bank Digital Currency – from a concept to reality! Learn how savvy investors can grow an impressive exposure to the theme. Enjoy listening.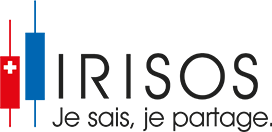 © 2019 IRISOS SA, Chemin d'Eysins 51, 1260 Nyon, Switzerland. Company is registered under CHE-431.232.198 - 786 123
IRISOS is a trademark and/or is copyright protected. The materials displayed on the IRISOS Web site, including without limitation all editorial materials, emails, informational text, photographs, illustrations, artwork and other graphic materials, and names, logos, trademarks, investment concepts, and service marks, are the property of IRISOS SA.
Asset allocation and diversification do not ensure a profit or protect against a loss. Investment suitability must be determined by each individual investor.
Market prices of securities may be affected by several types of risk, including but not limited to credit risk, interest rate risk, reinvestment risk, and liquidity risk. Investing involves risk and investors may incur a profit or loss. The full disclaimer is available here