The Swiss Quality Opportunity
Investing can be a great way to achieve your individual goals. To see your capital grow, you want to invest in first-class companies. That is where you will get a greater return on your investments over time.
Here is an example that provides you with more power in the future.
•
Standard Low Strike Barrier Reverse Convertible on high quality Swiss Stocks Nestlé, Novartis, and Roche, Conditional capital guarantee: 35 % (Barrier 65 %)
•
Barrier: 65 % (European version),
•
Duration: 24 months,
•
Early termination: First observation after 6months, thereafter decreasing by 1 % on a monthly, starting at 97 %
•
Coupon Feature: Memory
Low Strike at 65 %, if each equity is at or above Low Strike level, the investor will be redeemed 100 % of the investment amount; else: the payout will be linked to the worst performing equity from 65 %.
•
Indicative Price: Live Quote
Logon credentials:
Username:
SwissQuality

@irisos.

ch
Pw:
swissquality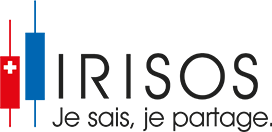 ⓒ 2020 IRISOS SA, Chemin d'Eysins 51, 1260 Nyon, Switzerland. Company is registered under CHE-431.232.198 - 786 123

IRISOS est une marque déposé. Tous les logos, marques, adresses de sites WEB, noms de produits ou concept, ou dérivés décrivant le concept d'investissement et de séléction d'investissement d'IRISOS, leurs produits, services ou autres sont des marques et/ou la propriété d'IRISOS.

Asset allocation and diversification do not ensure a profit or protect against a loss. Investment suitability must be determined by each individual in
vestor. Market prices of securities may be affected by several types of risk, including, but not limited to credit risk, interest rate risk, reinvestment risk, and liquidity risk. Investing involves risk and investors may incur a profit or loss. The full disclaimer is available here.